Bluerithm on Mobile
Bluerithm works across all your devices, including while offline on Android, Windows, and iOS devices.
Recommended devices for mobile use: Both the web portal and our native apps (Android, Windows, and iOS) work best on tablet sized devices (i.e. iPad, Samsung Galaxy Tab).
All apps work on smart phones as well, but tablets have a good blend of portability and usability with your custom forms and checklists.
NOTE: After version 1.0.4 of the Bluerithm Android app, your Android operating system must be at version 7 or later to use Bluerithm on the device. We are required to release apps that are in compliance with the operating system manufacturer's guidelines and this is to comply with Google's latest security requirements.
Web Portal (online only, any device)
You can run the web portal in any modern web browser on any device, where it will work the same as when used on a PC. There are certain pages that will have optimizations for smaller devices, but it is otherwise full-featured for mobile.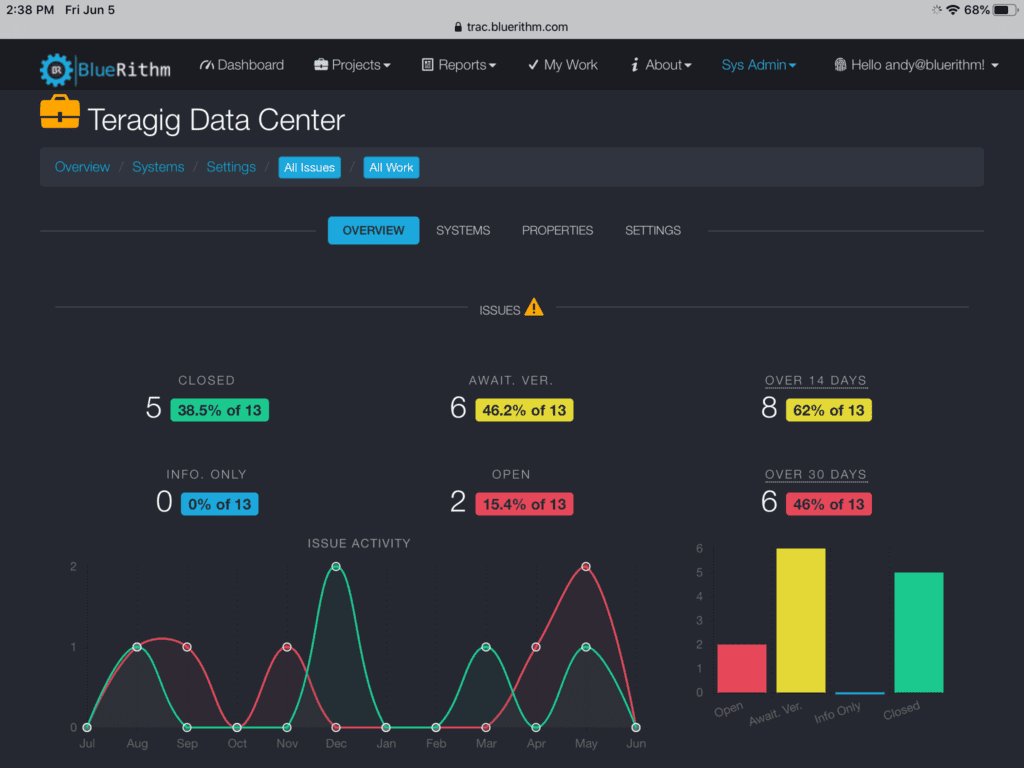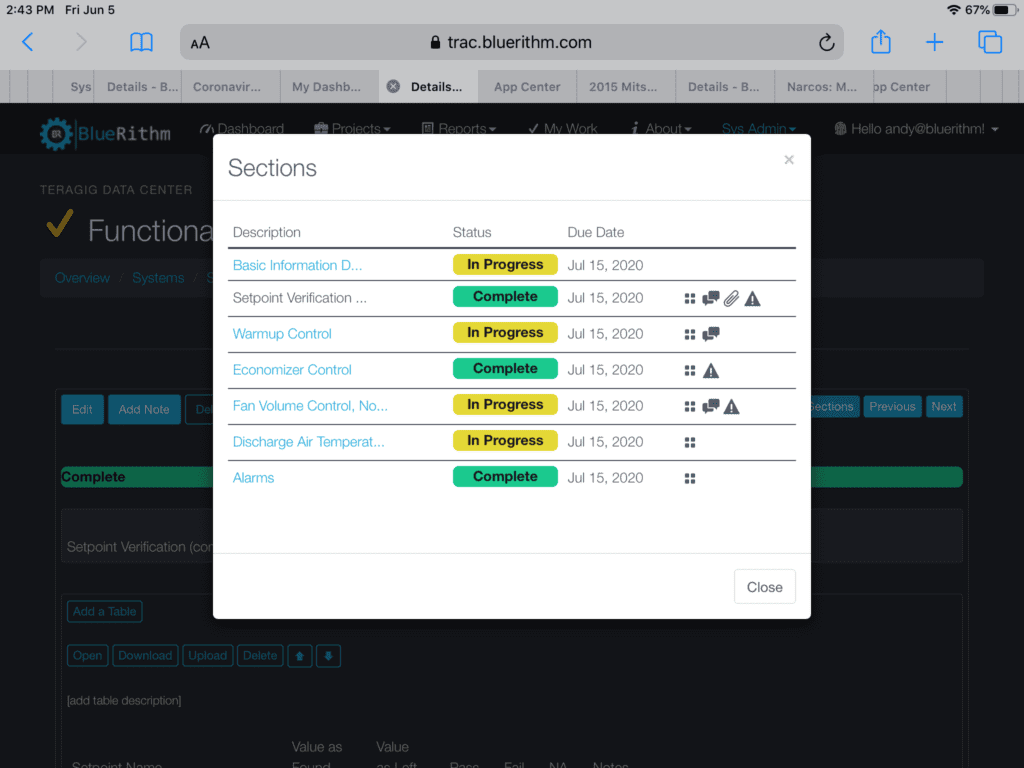 Android, Windows, and iOS Apps (online or offline, any device
The Bluerithm native apps are designed for field use when you don't have an internet connection.
We recommend using tablet-sized devices for these apps. To use them, you can install the apps on your device. https://bluerithm.com/#apps
After that, login using the same credentials as with the web portal. The projects you're a member of will show up on the projects list. If you are set up as a guest user, you will only see items that are assigned to you.
Viewing and editing restrictions are the same as in the web portal.
Once you've chosen a project, select the folders you want to load content from. Work, Issues, and Equipment for each selected folder will be loaded onto your device and be available for on or offline use.
If you ever want to select different folders, you can use the Select New button. You will of course need an internet connection in order to load new data from the project.
NOTE: The project data loaded during your folder selections is current as of the time you made your selections. Any changes you make on your device will be reflected immediately, but changes others make will not. To get the latest project data, you'll need to tap the Reload button on the Equipment, Work, or Issues pages. There is a timestamp on each of these pages that shows how current your project data is.
On the Equipment page of a project, you'll see what's been selected by the shading of the items. The lighter-colored, gray items have not been selected, while the white-colored items have been.
The Work and Issues pages will show items that were included with your folder selections (i.e. attached to equipment in the folder selections). Project-level items can be included by selecting the top level folder in the project.
Offline Use and Syncing with the Cloud
When a project is loaded on the apps, a local copy is made on the device. As updates are made, the app will attempt to send each change to the cloud servers. As long as the device is online (cellular or WiFi service), the changes will be reflected immediately in the project, meaning someone working on the web portal in another location will be able to see the updates.
If the device goes offline at any point, any loaded project data will still be available, and can be used normally. Any updates made to the project while offline will be stored locally on the device's memory. The app will regularly check for a network signal, and when one is found, it will begin attempting to synchronize the changes with the cloud servers.
NOTE: While the offline storage and syncing process is designed to be robust and reliable, mobile devices are are subject to damage and unpredictable behavior, so it is always advisable to sync offline changes as soon as possible to minimize the risk of losing any unsynced changes. The cloud databases are always the safest place for your data!
When updates are made to the project when the device is offline, the app will indicate that there are unsynced changes in the upper right corner, as shown below. There is no action required when there are unsynced changes, other than ensuring the device is provided with a network connection as soon as possible, so your work is saved in the cloud servers.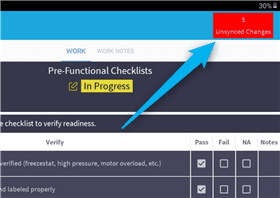 NOTE: In order to preserve data integrity and auditing, a user cannot log out of the app when there are unsynced changes.